As a Real Estate company in the community of Oxnard, we are very pleased and honored to be part of the upcoming career night in Oxnard, January 10, 2019 5:45 PM next to our offices located at 418 W Third Street, Oxnard, CA. This is a free event that requires registration. Please join us for an education evening. We will also be providing snacks and drinks for our guest.
This is a very special career night where we have the opportunity to discuss more in detail what it takes to develop a successful Real Estate career as well as provide an opportunity for the public to ask any questions. Our goal is to help others make well informed decision before jumping into the challenges of this career.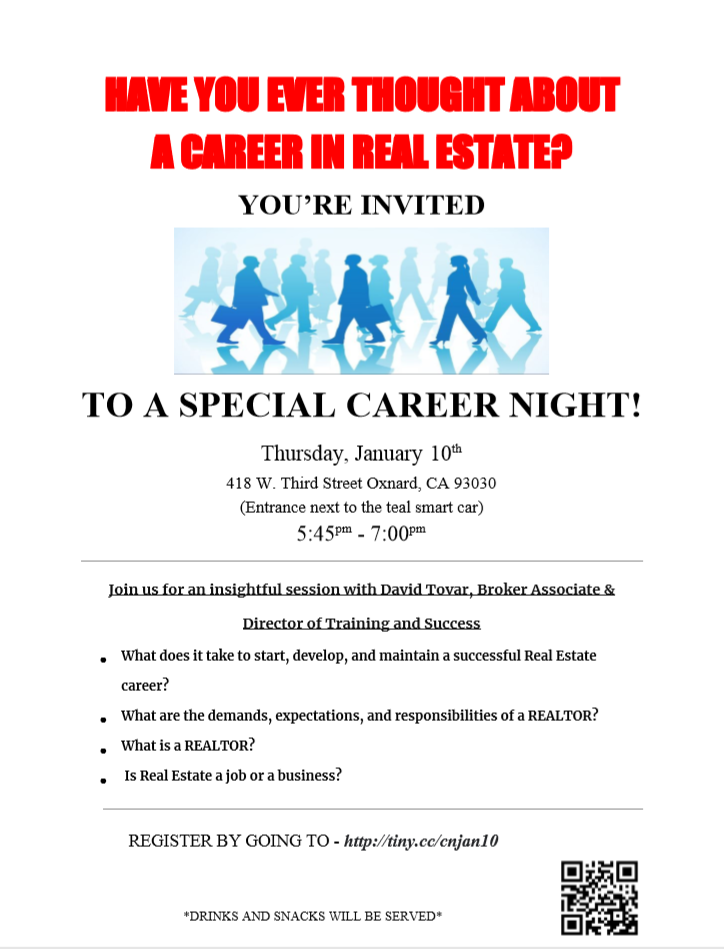 Career Night January 10th in Oxnard
Check in at 5:45 PM
Register http://www.tiny.cc/cnjan10
or Call (805) 204-0920


We at, EXIT Castillo Realty, feel this is very important career night because there are certain topics that are not being discussed in detail to the public especially the tough challenges and sacrifices that REALTORS must face in order to create a successful career.
As an experienced company, we know that there are a few people in the community that are thinking about a career in real estate but are not sure how to start. We will explore important topics such as: How do you proceed with the licensing requirements? What are the time frames to complete the licensing requirements? How are REALTORS compensated? What are the challenges and opportunities? These are some of the topics to be discussed and any others that may come from questions. We will be providing plenty of time for Q&A.
At this career night is also a great opportunity to talk to current licensed agents that are currently not happy with their production. It is open to anyone regardless of the company you work for. This is about sharing ideas to help our local agents succeed regardless of their affiliation. If our local agents succeed so will our community. That's our ultimate responsibility as a local real estate company in Oxnard.
Our Agents and our Broker Owner, Lorenzo Castillo, are very happy about this event. We look forward to meeting new aspiring agents in our local community of Oxnard. Our hope is to shed some light on the subject of Real Estate Career Development to help those decide for themselves..