Have you ever thought about a Career in Real Estate? If so come and join us on June 22, 2019 from 11AM to 1PM next to our office located on 418 W. Third Street, Oxnard, CA 93030. This event is FREE but it does require registration. We will be providing snacks for our guests. Anyone and everyone is more than welcome to come. Invite your family, friends, acquaintances, neighbors, EVERYONE IS INVITED.
In this Career Day June 22nd 2019 we will be discussing in full detail what it takes to start and most importantly share with you a plan for long-term Success in this business. As we all know this Career is not for everyone. It takes Courage, Determination, and Vision to Succeed in Real Estate and maybe YOU have what it takes!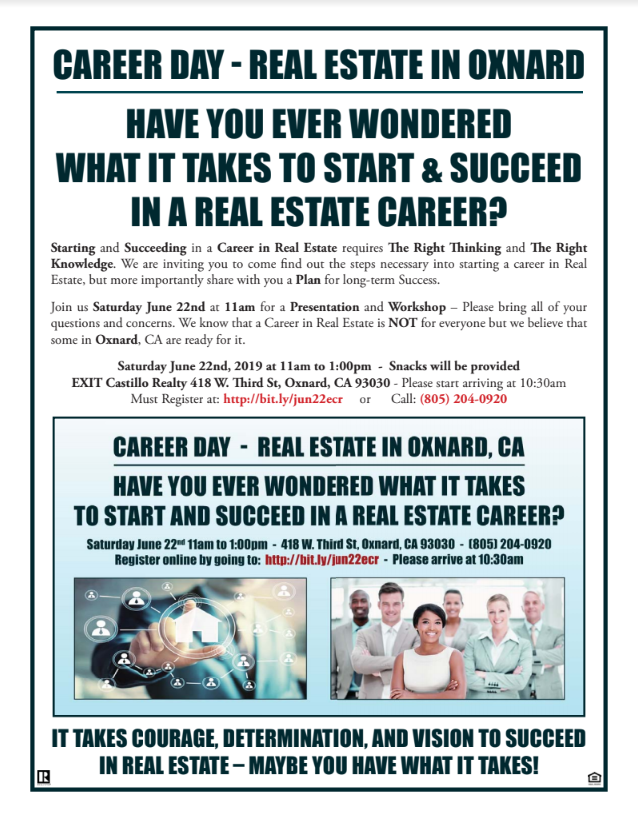 EXIT Castillo Realty put this event together to bring up topics that are not normally talked about to the public. Like how successful REALTORS are where they are today and the sacrifices and challenges they face to be where they're at.
At this Career Day everyone will have the opportunity to talk to licensed Real Estate Agents and a Broker. This event is open to all the public regardless of the current company you work for. Our Agents and Broker Owner, Lorenzo Castillo are excited to host this event. We are looking forward to help anyone who has the desire to start and succeed in the Real Estate Career.
Our goal is to help our local agents in Oxnard, CA be as successful as can be because if they are successful so is our community.